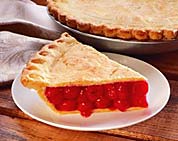 Dried cherries add a tangy flavor to traditional cherry pie.
Ingredients
1 cup granulated sugar
2 tablespoons quick-cooking tapioca
1/2 teaspoon almond extract
Pastry for 2-crust, 9-inch pie
1/4 teaspoon ground nutmeg
1 tablespoon butter
Directions
---
Step 1.
Combine frozen cherries, dried cherries, granulated sugar, tapioca and almond extract in a large mixing bowl; mix well. (It is not necessary to thaw cherries before using.) Let cherry mixture stand 15 minutes.
Step 2.
Line a 9-inch pie plate with pastry; fill with cherry mixture. Sprinkle with nutmeg. Dot with butter. Adjust top crust, cutting slits for steam to escape.
Step 3.
Bake in a preheated 375-degree oven about 1 hour, or until crust is golden brown and filling is bubbly. If necessary, cover edge of crust with aluminum foil to prevent over browning
Makes 8 servings.
Note: 2 (16-ounce) cans unsweetened tart cherries, well drained, can be substituted for frozen tart cherries.