Our Story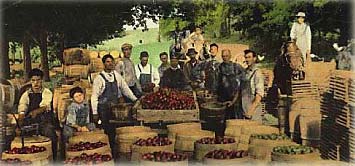 For over six generations, our family has been producing quality fruit products that are consumed by people throughout the United States and around the world. Although the way we do things has drastically changed since 1872 when William Smeltzer planted one of the first orchards in the state, one thing remains constant: our desire to continue processing top-quality fruit, using modern, environmentally-friendly technology.
After seventy years as the premier grower and distributor of fresh fruit in the state of Michigan, in 1946 Smeltzer Orchard Company started processing its own fruit harvests along with those of other growers in the area. This collaborative venture not only had tremendous historical impact on the city of Frankfort and the Northern Michigan area, it helped secure our position as a family-owned company, built on the belief that, by joining together, we can accomplish great things.
Over 100 years ago, it started with one orchard and we've come a long way since then. Today, our delicious, freshly processed products are used as ingredients by many of the nation's top food manufacturers. Here's what's currently available:
Frozen Red Tart Cherries
Frozen Dark Sweet Cherries
Frozen Sliced Apples
Frozen Diced Apples
Frozen Whole Peeled & Cored Apples (for dumplings)
Dried Red Tart Cherries
Dried Blueberries
Dried Cranberries
Dried Strawberries
Chocolate Covered Dried Cherries
Our employees, an extension of the Smeltzer family, are proud to provide the highest level of service to manufacturers and customers alike. It's through these strong associations and relationships that we've been able to continue the legacy of a man who firmly believed that there really is strength in numbers.