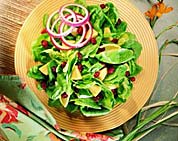 Cherries add a special touch to salads.
Ingredients
1/4 cup olive oil
1/4 cup red wine vinegar
2 teaspoons honey
1/8 teaspoon black pepper
5 cups cleaned torn spinach leaves, stems removed
1 cup bite-size fresh pineapple wedges
1/2 cup thinly sliced red onion
Crumbled feta cheese, if desired
Directions
---
Step 1.
For the Dressing:
Combine oil, vinegar, honey and pepper in a medium bowl; mix well.
Step 2.
For the Salad:
Combine spinach with pineapple, cherries and onion in a large salad bowl. Spoon dressing over spinach mixture; mix to coat salad with dressing. Serve topped with feta cheese, if desired.
Makes 4 servings.