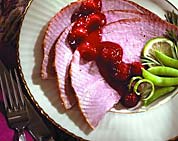 This sauce is terrific with roasted or grilled meats or poultry.
Ingredients
1/3 cup cherry juice blend
2 tablespoons cornstarch
3/4 cup maple-flavored syrup
1/2 cup chopped walnuts
1 teaspoon grated orange peel
Directions
---
Step 1.
Put cherry juice blend and cornstarch in a small saucepan; mix well. Cook over medium heat until thickened. Add cherries, maple-flavored syrup, walnuts and orange peel; mix well. Cook, stirring frequently, over low heat until all ingredients are hot. Serve over roast turkey, pork or ham.
Note: 1 (16-ounce) can unsweetened tart cherries, well drained, can be substituted for frozen tart cherries.
Makes 1 1/2 cups.