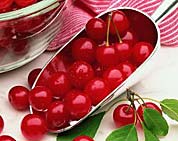 Colorful addition to potluck suppers.
Ingredients
1 (21-ounce) can cherry filling and topping
1 (16-ounce) container low-fat cottage cheese
1/2 cup slivered almonds
1/2 teaspoon almond extract, or to taste
1 cup frozen whipped topping, thawed Fresh mint leaves
Directions
---
Step 1.
Combine cherry filling, cottage cheese, almonds and almond extract; mix well. Fold in whipped topping. Let chill until ready to serve. Garnish with mint leaves, if desired. Serve as a salad, dessert or snack.
Makes 6 servings.