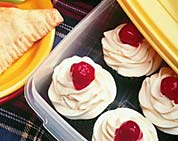 These tasty treats are a natural for school parties or tailgate celebrations.
Ingredients
1 (18-3/4-ounce) box chocolate cake mix
3 eggs
1-1/3 cups water
1/2 cup vegetable oil
1 (21-ounce) can cherry pie filling and topping
1 (16-ounce) can vanilla frosting
Directions
---
Step 1.
Prepare cake mix according to package directions, adding eggs, water and oil. Pour batter into 24 paper-lined muffin-pan cups, filling two-thirds full.
Step 2.
Remove 24 cherries from cherry filling; set aside. Spoon a generous teaspoon of remaining cherry filling onto the center of each cupcake.
Step 3.
Bake at in a preheated 350-degree oven 20 to 25 minutes. Cools in pans on wire rack for 10 minutes. Remove from pan. Let cool completely. Frost each cupcake with vanilla frosting. Garnish each cupcake with reserved cherries.
Makes 24.