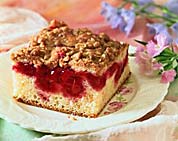 Old-fashioned goodness with everyday ingredients.
Ingredients
3/4 cup firmly packed brown sugar
1/2 cup all-purpose flour
1/2 cup old-fashioned or quick-cooking oats, uncooked
1 teaspoon ground cinnamon
1/4 teaspoon ground nutmeg
1/3 cup butter or margarine, softened
1-1/2 cups all-purpose flour
1/2 cup granulated sugar
2 teaspoons baking powder
1/2 teaspoon salt
3 tablespoons butter or margarine
2 eggs
3/4 cup milk
1 (21-ounce) can cherry filling and topping
Directions
---
Step 1.
For Topping:
Combine sugar, flour, oats, cinnamon and nutmeg in a medium mixing bowl; mix well. Cut in butter to make a crumbly mixture. Set aside.
Step 2.
For Batter:
Combine flour, sugar, baking powder and salt in a large mixing bowl. Cut in butter until mixture resembles coarse crumbs. Add eggs and milk; mix just until dry ingredients are moistened. Do not over mix; batter will be lumpy. Spread half the batter into a lightly greased 13x9x2-inch baking pan. Spoon cherry filling evenly over batter. Top with remaining batter. Sprinkle reserved topping over batter.
Bake in a preheated 350-degree oven 30 to 35 minutes, or until golden brown. Serve warm.
Makes 12 servings.